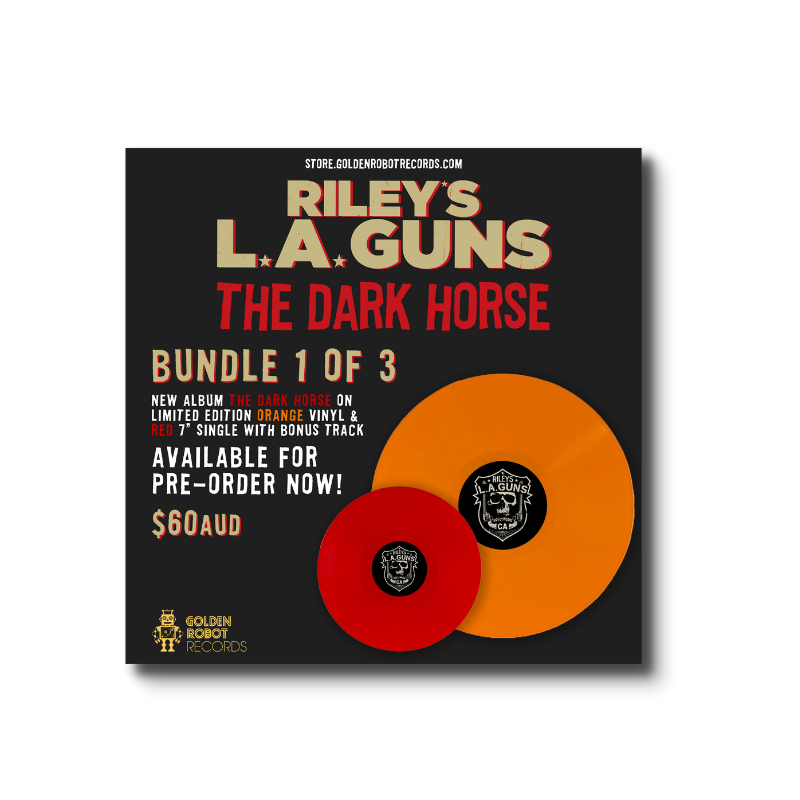 LA Guns - The Dark Horse Vinyl Bundle 1
This product is on pre-order and will be released Jul 14
Riley's LA Guns, featuring long time members Steve Riley, Kelly Nickels, with Scott Griffin and Kurt Frohlich, made their debut in 2019 before releasing their album Renegades. The band is back with a taste of their second album, The Dark Horse, with their new single 'Overdrive.'
To accompany their new single 'Overdrive,' the band are releasing a limited edition bundle series. With each single leading up to the release of their new album The Dark Horse, Riley's LA Guns are putting out a limited edition bundle, with bundle #1 out for pre-order today.
Each bundle will include a limited edition red 7" vinyl and a different coloured 12" of the upcoming album - the bundle #1 12" is orange.
"We are very excited to be releasing a 7" vinyl single. It features two songs that mean a lot to us. 'Ballad of Jayne' has been re-recorded the way it was initially written, acoustically," says long-time bassist Kelly Nickels.
Bundle #1 is available for pre-order now and includes:
12" orange The Dark Horse vinyl
7" red double A-side single vinyl
Stock is limited!